How to Get Rid of Termites and Other Questions
In this blog, we'll answer some of the most frequently asked questions about how to get rid of termites. Bug Authority is the trusted name in middle Tennessee for treating termites, serving residents in Nashville, Franklin, Brentwood, Spring Hill, Thompson Station, and beyond. We have the experience and expertise to give you the correct answers to your questions about termites.
1. How can I check to see if I have termites?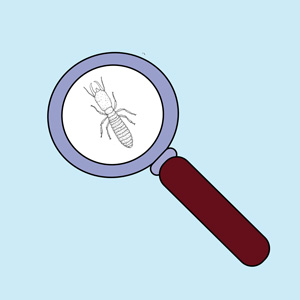 We recommend professional inspections yearly. Termites literally permeate Tennessee. On average, there are 22 to 25 termite colonies per acre in Tennessee. Termite activity that you might recognize may only become visible after months or even years. So, it's crucial to have your property inspected by a trained professional.
2. How do I get rid of termites?
The answer to this question is simple. Don't try to do it yourself. Call a professional termite exterminator like Bug Authority. Bug Authority specializes in termite inspections and termite control in Middle Tennessee.
3. How do professionals get rid of termites?
Professionals definitely know how to get rid of termites. They treat for termites at different stages in the life of a home. There are three methods professionals use. During the new construction phase, one option is to have a pest control expert treat the sill plate or the first 12" of the wooden structure. This method makes the home a deadly meal for termites for the life of the home. Borate is the product this type of treatment uses. The second new construction option, a proactive method, is to inject a liquid product called Termidor into the ground that will be under and around the foundation of the house.
Some states have laws that require the builder to use at least one of these two methods in the construction process. But in Tennessee, a builder can skip both of these methods and install Sentricon bait stations after the home is built. Installing bait stations is a passive, rather than a proactive, method. The termites have to find and eat the Sentricon bait for the bait to work. Other termites in the colony that don't find a bait station can go straight for the house. If this happens, you'll need to go to a third option.
The third option, used any time after a house is built, is an application of liquid Termidor all around the house. This method involves treating all the exposed soil around the house and drilling holes (about eighteen inches apart) in exterior slabs and porches to treat the soil underneath. Bug Authority highly recommends the liquid option instead of baiting.
4. How often do I need to treat for termites?
If liquid Termidor is the method of treatment, it will last at least ten years.
If you have the baiting system, a pest control professional may need to change the baits, depending on whether termites have consumed the bait.
5. How much does termite treatment cost?
In this area of the country, most liquid treatments range between $800 – $2,500 depending on the linear footage of the house. To find out how much your particular house will cost, please call Bug Authority for a free estimate at 615-472-1292. After the initial treatment, yearly termite inspections are advisable, and they generally cost around $200 a year. (This number could be more or less, depending on the size of the house.)
The cost of bait stations is also dependent on the linear footage of the house because the bait stations are placed every ten feet. Most baiting services are roughly in the same cost range as liquid treatments ($800 – $1,500). However, the yearly maintenance cost for bait stations is double the cost of a yearly termite inspection for a liquid plan. Sustaining that cost over the years can cause a strain on a homeowner's budget.
6. How often should bait stations be checked?
Professionals should check bait stations quarterly, semi-annually, or once a year. The frequency really depends on the label requirements of the particular bait the professional is using.
7. Are annual inspections worth the money if my home has been treated with a liquid plan?
Yes. Regular follow-up inspections are the key to maintaining Termidor protection over time. Yearly inspections can detect potential new termite threats. Spending a few hundred dollars per year proactively protects your home from termite damage that would probably cost much more to repair than the cost of inspections.
8. Is it worth it to have my home inspected for termites every year if I've never had termites?
This question is sort of like asking, "Should I roll the dice?" Our answer is yes; it's worth it. So, it's actually a good strategy that Bug Authority supports. We offer the same thorough yearly inspections for untreated homes as we do for homes treated with Termidor.
If you decide not to treat your home, then yearly inspections are the best and least expensive way to protect your home. When an inspection finds termites, it allows you take action before the termite damage is too costly. If inspections never find termites, you end up ahead of the game. You save $800 – $2,500 by not paying for a treatment that you ultimately did not need.
Bug Authority is the Trusted Termite Professional in Middle Tennessee
Call us today for a termite inspection (if you want to roll the dice) or for help with a termite problem. You'll be glad you did. Our clients will tell you that we have an outstanding knowledge of pest control. And our clients appreciate the personal touch of our top-notch customer care.