Mosquitoes in Your Yard? Call Bug Authority!
Are you prepared for mosquitoes in your yard? If you haven't seen one yet, you will soon! Mosquitoes start to appear when the temperature reaches 50° F. They thrive in hot weather. So, as the temperature rises, so does the volume of mosquitoes. The hottest months of summer are the peak time for mosquitoes.
No one wants to contend with mosquitoes in the yard when the weather turns warm. Before summer gets into full swing, let the experts at Bug Authority help you with our seasonal mosquito applications. We also do yard treatments for ticks and fleas.
Bug Authority Offers Seasonal Service for Mosquitoes in Your Yard
Our seasonal service, which focuses on the Asian tiger mosquito (the most common mosquito in Tennessee) includes monthly treatments starting in early April and ending in late October.
In a perfect world, we would recommend the application every 21 days, however, most clients experience good control once every 30 days. In peak season, some customers add an additional service to gain better control. You can start a seasonal treatment at any point, as long as it is within the season, and it won't jeopardize the effectiveness of the treatments. The treatments for mosquitoes are not cumulative as with many other pests.
Reasons You Might Want to Call the Professionals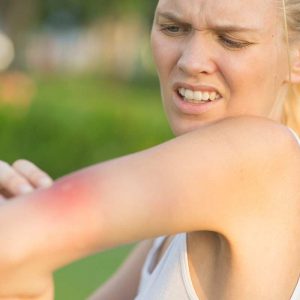 For the following reasons, you might want to call in a professional:
If anyone in your family has an allergic to mosquito bites.
An allergy to mosquito bites can cause blistering rashes, bruising, and large areas of swelling.
If you have young children who scratch the bites.
It's difficult to control this in young children, but bites can become infected this way.
If you live within a mile of an untreated swampy area or body of water.
This is a case that would require multiple treatments throughout the season.